Working With Us: Industry
The 12-fan NHERI Wall of Wind Experimental Facility (WOW EF) at FIU is the largest and most powerful university research facility of its kind and is capable of simulating a Category 5 hurricane – the highest rating on the Saffir-Simpson Hurricane Wind Scale. At FIU, we are dedicated to conducting impactful research and are uniquely positioned to address the many challenges of creating a more hurricane resilient community through innovative product and technology development.
What Can the NHERI Wall of Wind Experimental Facility (WOW EF) Do For You?
The Wall of Wind team is partnering with commercial industry for testing and validating "code-plus" concepts and products, including forensic engineering and modeling in our research facility.
Examples of what can be tested at the WOW:
Roofing materials
Wall cladding
Building rooftop equipment
Louver systems
Fenestration products (windows, doors, curtain walls)
Solar collectors
Building assemblages (housing, emergency shelters, tents)
Architectural features
Sustainable building envelope systems
Transportation structures (bridges, road signs, light poles, traffic signals)
Electrical transmission structures
Research for product development
Examples of our testing capabilities are available in our informational booklet.
The services provided by the NHERI WOW EF to industrial partners include:
Design, construction, and instrumentation of test specimens
Test protocol development and software implementation
Operation of the wind tunnel
Data acquisition, archiving, and curation
Processing and post processing of the data
Safety training
Telepresence for remote participation
---
How to Start?
View the process from initial contact, to proposal submission, to project execution: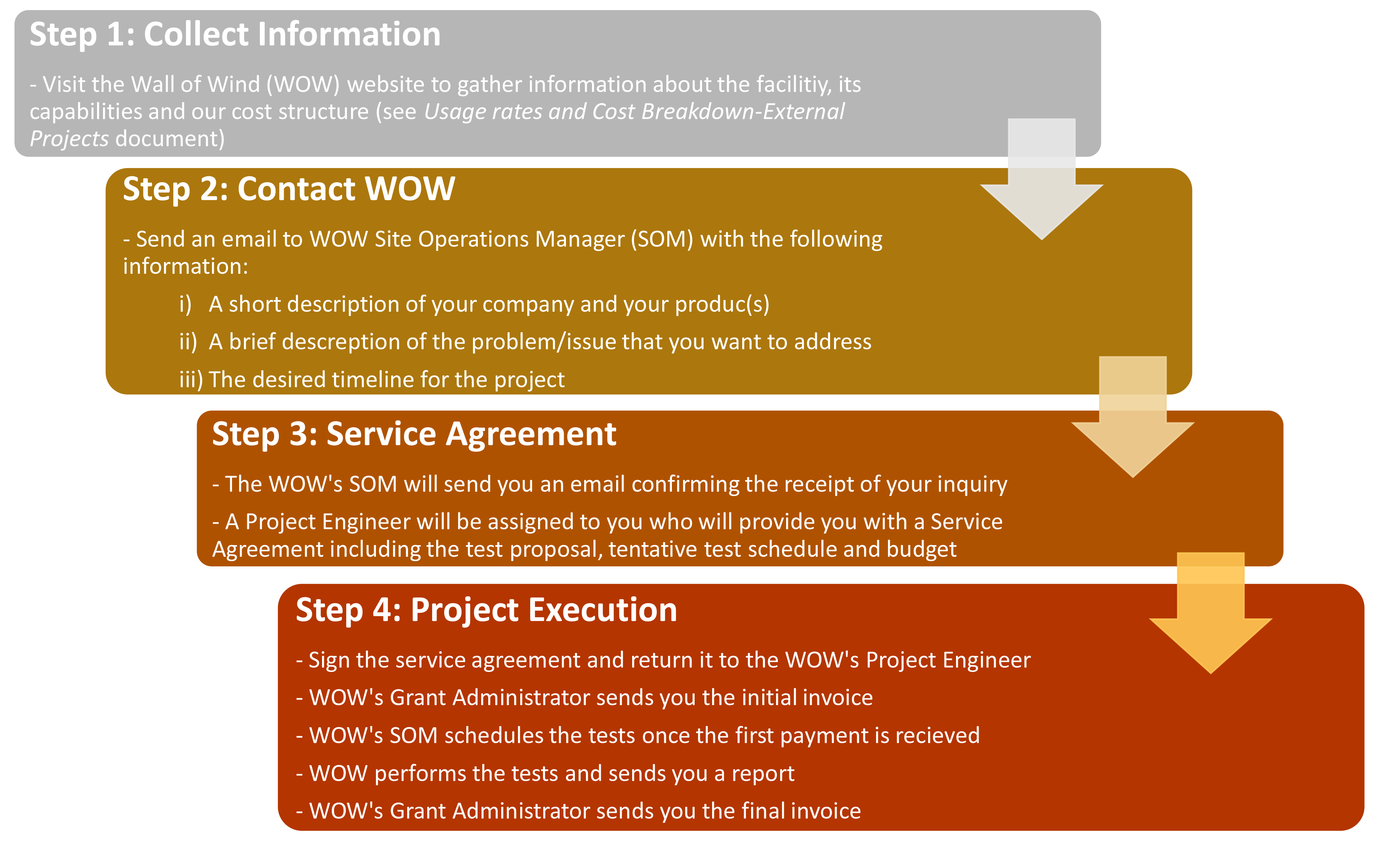 Cost Structure
The Usage Rates and Cost Breakdown document provides the rates associated with Industrial Projects as well as a breakdown of the costs covered under each service.